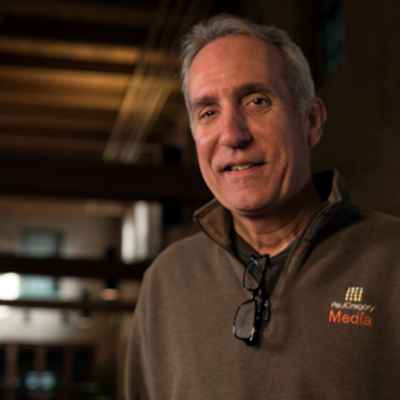 Marissa Schmidt
Digital Marketing Manager
Allison Shire
Digital Marketing Coordinator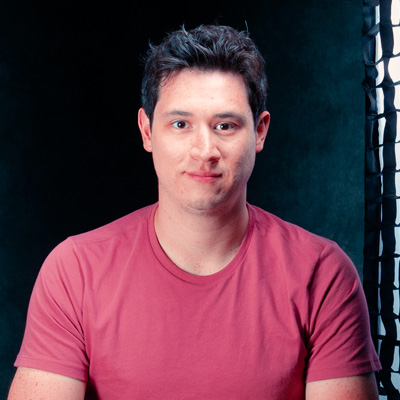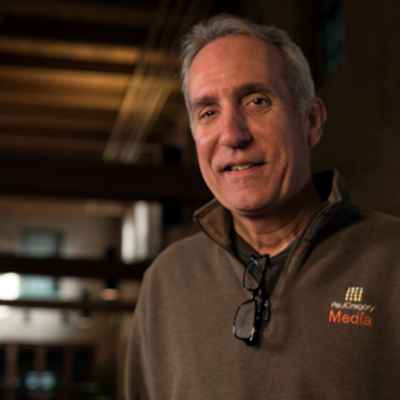 Marissa Schmidt
Digital Marketing Manager
Allison Shire
Digital Marketing Coordinator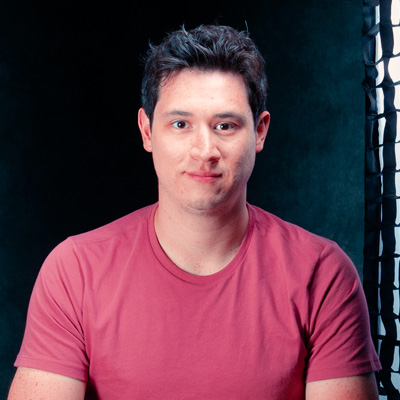 Paul Feith
— President
Growing up in New Jersey, Paul has always been a bit of a computer and tech nerd. After starting out in computer retail, he opened a database programming business called, Compu-Tech, in the late 80's. After moving to Naperville in 1995, he transitioned into the corporate world as a new media manager for dot com startups. In 2006, he created PGM as the sole graphic designer. Paul believes that business good = social good. He is most passionate about working with mission-based clients who want to make a difference in the world. Paul donates much of his time to various non-profit organizations and finds that sharing his expertise in technology and marketing is quite fulfilling. He currently serves with the Professional Advisory Council for Uncharted Learning, Association of Consultants to NonProfits, Naperville Noon Rotary, Habitat for Humanity of Illinois board, and recently Giving DuPage as board president.
In his free time, Paul collects cigars (over 6,500 currently) and enjoys playing the piano. He has two daughers in their 20's and resides in Aurora with his wife.
Fun Facts: Paul holds an associate degree in Commercial Music Composition (i.e. jingle writing), was employed as a church choir director for 2 years, and was employed by Playboy Enterprises for 4 years in their web division – and yes, those two jobs were back to back.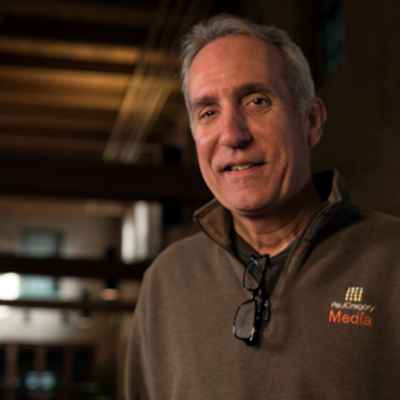 Rick Cosaro
— Designer
Rick has been in the design business for nearly 40 years. A lot has changed in that time, but Rick has always embraced change and technology. No matter what design tools are at his disposal, he enjoys bringing the client's vision to life, whether it's in print or digital format. In fact, in the last 4 years, Rick has been PGM's lead resource for website design and user experience (UEX) – so much so that he now manages the front-end development as well. Rick believes that design and function are better integrated when created together, rather than in silos.
When Rick is not behind a computer, his passion is cycling, and he enjoys cooking. 
Marissa Schmidt
— Digital Marketing Manager
Marissa directly streamlines client projects from start to finish. She thoroughly enjoys strategic and creative thinking when it comes to building a fully engaging and optimized website. She helps clients in developing their digital marketing strategies for social media, believing that adding a human touch with a pinch of transparency to posts are what make an organization credible and eye-catching. Marissa has a knack for creating content that's on-brand and in-line with a company's mission. She is actively involved in the community, attending professional networking events, and volunteering whenever she can.
At PGM she is known as "Flash" because of her speedy typing skills!
Outside of the office, she loves spending time with her two Aussies, Denver, and Freya!
Allison Shire
— Digital Marketing Coordinator
Allison loves working with mission-based organizations and it is one of the main reasons she joined PGM. Her compassion and empathy help propel our mission-based clients forward — way forward. Allison's passion for helping others motivates her every day. She became interested in Marketing because of the impact that it has on each person, especially when there is an opportunity to positively influence people's lives.
She holds a Bachelor's Degree in Marketing and Economics from Augustana College. Ask her about macaroni and cheese some time — she has a ranked list of 38 types of mac & cheese.
Katie Wozniak
— Social Media Marketer
Katie has a passion for social media and getting involved in her local community, two things that make her great at this role. She has spent countless hours managing social media for many organizations and profiles throughout her career. She believes that social media management is a collaborative effort and shouldn't be implemented in a silo. 
Katie has a Bachelor's degree in Communication and Media Arts from the University of St. Francis. A fun fact about Katie is that she used to work at a local, small-business bakery! Through her experience in working with them and attending a small, private university, Katie understands the great impact our local community can make on small and non-profit organizations. Because of this, she loves to "shop small" and support local businesses at any chance she gets.
Curt Gruber
— Brand Strategist
Embracing change, new ideas, and technology, while grounded by the process of brand management, Curt Gruber has led global brands like Jim Beam and Wrigley's Juicy Fruit, Doublemint and Extra to multi-$MM growth and market-share expansion. Additionally, through entrepreneurship, hustle and bold leadership, he helped create a professional Chicago sports franchise from scratch to sell-out crowds. Coupled with agency/consulting-services management serving F500 clients, he has a unique, multi-angled perspective on business issues and how to address them. This practical experience and continued passion to mold future marketing thought and leaders are strengthened by teaching graduate-level marketing at Northwestern University.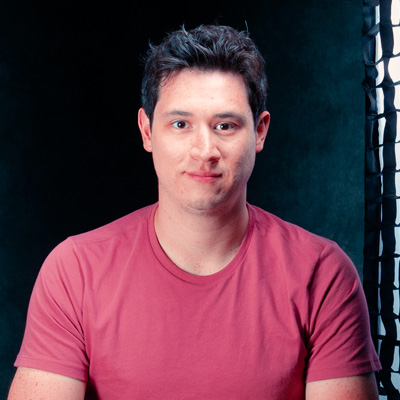 Milo Barsanti
— Videographer
Milo's passion is telling stories. His roots began in DeKalb, Illinois, where he received his BFA in New Media Arts at Northern Illinois University. After graduation, he maintained a full-time position as a Multimedia Communications Specialist — creating video content that aided in securing several multi-million dollar donations and pushing the message of philanthropy to the school's patrons. During his tenure at Northern, he began working with several large and small companies in a freelance setting. This allowed him to expand his services beyond video, mastering skills associated with motion graphics, photography, graphic design, art direction, and creative consulting.
Today, Milo is an award-winning director and filmmaker specializing in engaging branded video for web, TV and social media marketing. With an agency background and years of experience in imagining, scripting, lighting, directing, filming, and editing, he works directly with non-profits, large and small companies, and marketing directors.
In all of Milo's roles that he serves, he maintains the same idea — Creativity pushes boundaries. With that simple thought, companies and organizations can inspire those they serve in ways that only creative video can.
Steve Lovisa
— Lead Developer
Steve's experience with interactive and web-based projects dates back to the late 90s when the web first became a mainstream medium. He quickly learned to love the web because it allows him to exercise his creative side on the front-end and his logical side on the back end. Over his 20-year career, he has continually pushed himself to learn about all aspects of web design and development, from coding and usability to SEO and the components of digital marketing that come together to make a website successful.
Steve works closely with our clients to build custom web-based projects that are compelling to end-users, simple for clients to manage, and successful at generating views, clicks, and sales — as well as capturing & analyzing the data behind each interaction.
When he's not at the computer, Steve is usually hanging out at home with his family or driving his kids around town. But he also enjoys checking out live music in Chicago, playing guitar, and backpacking with his friends in remote mountain and desert locations where he can be totally off the grid.
Cate Flahardy
— Copywriter
With nearly two decades of professional writing experience with a strong focus on corporate legal and professional service content development, Cate has a consistent track record delivering high-quality content on point.
When our clients have a lot of ground to cover to turn someone into a customer, Cate knows how to capture those customer's interests in an instant. She understands the ecosystem in which our clients compete and the channels available to them. When an audience looks for information, she'll craft a message on their path in ways they find informative and useful.
Cate has an MBA with a concentration in marketing and international business from Loyola University.
Molly Cantrell-Kraig
— Social Media Specialist
Molly is passionate about what motivates people. Her expertise and experience in social media have taught her that the most impactful communications are also the most genuine and organic. As consumers opt-out of interruptive advertising, they still want to be part of the dialogue. She believes one of the best ways to grow your brand is to involve your users and tie your business goals into purpose-driven causes that people care about.
Jenny Shepherd
— Public Relations
Jenny gets clients noticed and tells their stories with strategic expertise. She's no stranger to grabbing media attention, keeping our clients relevant in the public eye.
Regardless of how compelling, inspiring or persuasive a story may be, it will only go somewhere if the right people hear it in a timely manner. Jenny has her fingers on the pulse of media exposure. In addition to focused outreach campaigns, she engages our clients with target audiences on a personal level. Through the creation of strategic partnerships, targeted events, and custom tactics, she forges valuable connections between your organization and the world. She reaches the right people, in the right way, and at the right time.
Whether searching to cover an ambitious success story, or troubleshooting how to tactfully handle delicate coverage when met with challenging circumstances, Jenny is experienced in a broad range of strategies to meet every need.
Jenny and her husband Mark live in Oak Park with their twin 14-year-old boys Will and Cole and 8-year-old daughter Avery. She and her family travel as often as possible, most frequently to Los Angeles where she is from, as well as New Zealand, where her husband grew up. When she isn't working or jumping on a plane with her brood, Jenny can most often be found testing out new recipes in her kitchen, where she started a side business last year, Shepherd's Smoked Bone Broth (www.sbroth.com). She also has a passion for running marathons and practices yoga daily.