Ashley Arneson
Digital Marketing Coordinator
Ashley Arneson
Digital Marketing Coordinator
Paul Feith
— President
Growing up in New Jersey, Paul has always been a bit of a computer and tech nerd. After starting out in computer retail, he opened a database programming business called, Compu-Tech, in the late 80's. After moving to Naperville in 1995, he transitioned into the corporate world as a new media manager for dot com startups. In 2006, he created PGM as the sole graphic designer. Paul believes that business good = social good. He is most passionate about working with mission-based clients who want to make a difference in the world. Paul donates much of his time to various non-profit organizations and finds that sharing his expertise in technology and marketing is quite fulfilling. He currently serves with the Professional Advisory Council for Uncharted Learning, Association of Consultants to NonProfits, Naperville Noon Rotary, Habitat for Humanity of Illinois board, and recently Giving DuPage as board president.
In his free time, Paul collects cigars (over 6,500 currently) and enjoys playing the piano. He has two daughers in their 20's and resides in Aurora with his wife.
Fun Facts: Paul holds an associate degree in Commercial Music Composition (i.e. jingle writing), was employed as a church choir director for 2 years, and was employed by Playboy Enterprises for 4 years in their web division – and yes, those two jobs were back to back.
Curt Schultz
— Creative Director
Curt has more than 30 years of experience in the creation and execution of graphic communications serving clients from the corporate, professional, retail, sports, entertainment, and not-for-profit sectors. His portfolio of work spans a wide range of initiatives, from print to digital. Having managed his own agency for 18 years he brings a unique skill set to any project or organization. Such a diverse base of industry and hands-on experience allows him to quickly grasp the subject matter and transpose ideas into fresh and strategic mediums. His creativity and compelling messages speak precisely to their audiences. Curt was able to take a passion for sports and compile a list of clients producing both environmental and promotional work for dozens of collegiate universities and professional athletic teams including his home town Chicago Bulls and Blackhawks. Curt has a B.S. in Graphic Design from Southern Illinois University, with a specialization in Computer Graphics. Curt and his wife Sarah live in Batavia, IL with their four children and two Cavaliers.
A father of four active children, free time outside of the office is spent attending many of his children's events.Curt manages somehow to squeeze in college lacrosse, Junior Hockey in Canada, AAU basketball, travel volleyball, and horseback riding and managing all the activities that seem to pop up as his kids grow.
Bob Kopach
— Public Relations
Bob has more than 25 years of corporate and marketing communications experience on both the agency and client-side. As director of communications at Jim Beam Brands Worldwide, Bob was responsible for the creation, planning and execution of the company's internal and external communications programming around the globe. Bob's agency experience includes senior executive leadership roles at two of the largest public relations firms in the world — Edelman and Ketchum. While with those agencies, Bob led global, national and local cause marketing communications programs for clients such as Valvoline, Boeing, UPS, Domino's, Kraft, ConAgra, Kimberly Clark, Wrigley and YUM Brands.
Bob uses his experience with cause marketing programs to focus on not-for-profit and philanthropic communications programming. He continues his work with the National Science Olympiad and The RumChata Foundation. In addition, he has developed corporate philanthropy programs for Wahl Clippers and The Solar Electric Vehicle Company.
On a personal level, Bob developed and leads the West Cook County Youth Club STEM program for underprivileged youth. Bob serves as the executive director for the Eco-Friendly Mobile Farm Stand Project, a non-profit that provides eco-friendly electric vehicles for delivering fruits and vegetables to urban food deserts.
Steve Singerman
— Public Relations
Steve is an executive-level public relations veteran with 35 years of big and small agency experience, and five years service as in-house corporate communications director for Terlato Wines International.
Major positions include more than a decade at Ketchum Public Relations/Chicago reaching the position of Senior Vice President, Deputy Office Manager; 6 years as an Executive Vice President at Edelman Worldwide/Chicago; and 4 years as Director of Client Engagement at Chicago-based Henson Consulting. As a seasoned professional Steve understands traditional and contemporary communications techniques and their role in building brands and reputations, managing issues and crises, and delivering messages to diverse demographic audiences at the corporate and consumer level.
Steve has worked with C-Suite level executives at small and big organizations including the American Bar Association, Miller Brewing Company, Aveda Corporation (cosmetics and beauty products), and Chicago's legendary tourist attraction Navy Pier.
His skill set includes media relations, media interview preparation/training, crisis communications and issues management, business-to-business communications, special events and employee relations. As a media interview training expert Steve has worked with C-Suite level executives, association managers, product spokespersons, and major celebrities in sports and music. He's a strong and experienced writer capable of quickly providing key messages, news releases, white papers, position statements and issues-related Q & A documents.
Marissa Schmidt
— Marketing Director
Marissa has been immersed in the digital marketing and agency world for 4+ years. At PGM, she manages projects from start to finish. She thoroughly enjoys working alongside mission-driven organizations and companies to propel them into the world with sound strategic and creative solutions! Beyond project management, she is beside our clients and team members from the brainstorming phase to content creation to reviews and implementation, ensuring happiness and success with each project. Her specialties are content strategy, social media graphic design, digital marketing efforts, and responsive communication. Her goal is to lift up our clients with a positive attitude and smile with each interaction. Marissa is actively involved with the community and regularly volunteers with our client partners, exemplifying that our client's mission is also ours.
At PGM, she is the glue that holds the team together and works to create meaningful team bonding experiences.
Outside the office, she enjoys trying out new recipes from Pinterest and resides in Carol Stream, spending time with her fiancé and two Australian Shepherds, Denver and Freya!
Ashley Arneson
— Digital Marketing Coordinator
Ashley has a passion for helping people and using her marketing skills to help organizations that need it most. She has worked on various marketing teams in a variety of industries, including consumer goods, higher education, and health and wellness. Ashley enjoys creating strategic, integrated marketing plans and implementing them throughout all digital marketing channels – all while staying on brand! She is very excited to be working with mission-based organizations at Paul Gregory Media!
Ashley also loves music and singing, and holds vocal music minor from Illinois State University, where she participated in the premiere all-female a cappella group as well as the Illinois State University Concert Choir. In her free time, she enjoys reading, playing piano, spending quality time with friends and family, and staying active with her local church community.
Katrina Syrris
— Social Media Manager
Katrina is a social butterfly whose knack for communication has made her a skilled social media manager. Katrina has applied her knowledge to serve a wide range of small businesses in industries ranging from manufacturing to hospitality. Katrina has a Bachelor's degree in English from Aurora University with an emphasis on academic research and writing. In her spare time, Katrina has served on committees and boards for environmental and theatrical nonprofits. From ripping up invasive species in forest preserves to building sets for theatrical productions, Katrina's hands-on experience has given her an in-depth perspective of the combined effort and passion that fuels the small business or nonprofit, and she enjoys applying her insights to her role as PGM's social media manager. When she's not wearing her blue-light glasses, Katrina can be found embroidering while listening to Ella Fitzgerald.
Lauren Becker
— Digital Designer
Lauren has always looked to help make change through volunteering, environmental friendly modifications or other ways of getting involved in the community. She has been brought up to love the creative outlets that can be expressed through photography, illustration and design. Therefore, she was ecstatic to be able to tag team these two passions at Paul Gregory Media.
Lauren gained a Bachelors degree in Graphic Design from Augustana College. Although she has had previous design experience, she wanted to pursue a path that would let her take a keen eye for detail to another level. She started working at PGM as a design intern under the previous designer in order to acquire further knowledge in design as well as building up more confidence in digital work, specifically website design. Lauren was fortunate enough to take that time to absorb skills as an intern and excel in becoming PGM's Digital Designer.
Fun fact, Lauren also works as a part time photographer who also loves the classic film photography and hopes that she will one day have her own dark room to work in!
Abby Ferrer
— Office Administrator
I graduated from Rutgers University with a Bachelor's degree in Labor Studies with a minor in Human Resources Management. After graduating, I continued working at the nursing home where I had worked for 10 years. During that time, I married my best friend and had our son, Alex. My son is now 2 years old and loves going on family adventures. My typical weekend consists of finding new places to explore with my family and going to our local farmers markets.
When I was offered the office administrator position at PGM, I knew it was the perfect company to work for. At PGM, everyone is so welcoming and goal orientated. It is nice to work for a company with such an important mission and vision for their community. It shows that everyone at PGM truly cares about the community in which they work with and all of the work they do shows how passionate they are and I am lucky to be joining the team!
In my spare time, I love to bake. I started out making cakes for family birthdays and fell in love with it. I ventured into trying other desserts as well and ultimately discovered my favorite dessert to make: cupcakes! One day, I hope to own my own successful cupcake business in town. For now, I will continue to make cupcakes for family and friends.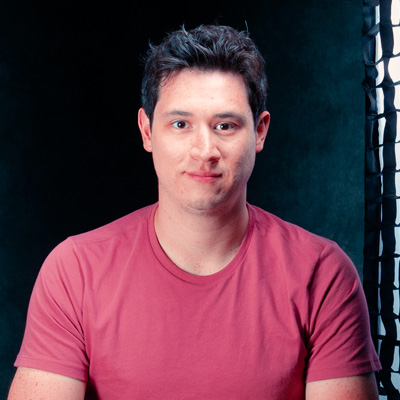 Milo Barsanti-Gonzalez
— Videographer
Milo's passion is telling stories. His roots began in DeKalb, Illinois, where he received his BFA in New Media Arts at Northern Illinois University. After graduation, he maintained a full-time position as a Multimedia Communications Specialist — creating video content that aided in securing several multi-million dollar donations and pushing the message of philanthropy to the school's patrons. During his tenure at Northern, he began working with several large and small companies in a freelance setting. This allowed him to expand his services beyond video, mastering skills associated with motion graphics, photography, graphic design, art direction, and creative consulting.
Today, Milo is an award-winning director and filmmaker specializing in engaging branded video for web, TV and social media marketing. With an agency background and years of experience in imagining, scripting, lighting, directing, filming, and editing, he works directly with non-profits, large and small companies, and marketing directors.
In all of Milo's roles that he serves, he maintains the same idea — Creativity pushes boundaries. With that simple thought, companies and organizations can inspire those they serve in ways that only creative video can.
Steve Lovisa
— Lead Developer
Steve's experience with interactive and web-based projects dates back to the late 90s when the web first became a mainstream medium. He quickly learned to love the web because it allows him to exercise his creative side on the front-end and his logical side on the back end. Over his 20-year career, he has continually pushed himself to learn about all aspects of web design and development, from coding and usability to SEO and the components of digital marketing that come together to make a website successful.
Steve works closely with our clients to build custom web-based projects that are compelling to end-users, simple for clients to manage, and successful at generating views, clicks, and sales — as well as capturing & analyzing the data behind each interaction.
When he's not at the computer, Steve is usually hanging out at home with his family or driving his kids around town. But he also enjoys checking out live music in Chicago, playing guitar, and backpacking with his friends in remote mountain and desert locations where he can be totally off the grid.
Cate Flahardy
— Copywriter
With nearly two decades of professional writing experience with a strong focus on corporate legal and professional service content development, Cate has a consistent track record delivering high-quality content on point.
When our clients have a lot of ground to cover to turn someone into a customer, Cate knows how to capture those customer's interests in an instant. She understands the ecosystem in which our clients compete and the channels available to them. When an audience looks for information, she'll craft a message on their path in ways they find informative and useful.
Cate has an MBA with a concentration in marketing and international business from Loyola University.
Molly Cantrell-Kraig
— Social Media Specialist
Molly is passionate about what motivates people. Her expertise and experience in social media have taught her that the most impactful communications are also the most genuine and organic. As consumers opt-out of interruptive advertising, they still want to be part of the dialogue. She believes one of the best ways to grow your brand is to involve your users and tie your business goals into purpose-driven causes that people care about.
Jenny Shepherd
— Public Relations
Jenny gets clients noticed and tells their stories with strategic expertise. She's no stranger to grabbing media attention, keeping our clients relevant in the public eye.
Regardless of how compelling, inspiring or persuasive a story may be, it will only go somewhere if the right people hear it in a timely manner. Jenny has her fingers on the pulse of media exposure. In addition to focused outreach campaigns, she engages our clients with target audiences on a personal level. Through the creation of strategic partnerships, targeted events, and custom tactics, she forges valuable connections between your organization and the world. She reaches the right people, in the right way, and at the right time.
Whether searching to cover an ambitious success story, or troubleshooting how to tactfully handle delicate coverage when met with challenging circumstances, Jenny is experienced in a broad range of strategies to meet every need.
Jenny and her husband Mark live in Oak Park with their twin 14-year-old boys Will and Cole and 8-year-old daughter Avery. She and her family travel as often as possible, most frequently to Los Angeles where she is from, as well as New Zealand, where her husband grew up. When she isn't working or jumping on a plane with her brood, Jenny can most often be found testing out new recipes in her kitchen, where she started a side business last year, Shepherd's Smoked Bone Broth (www.sbroth.com). She also has a passion for running marathons and practices yoga daily.
Mariam Jangda
— Account Manager
A self-proclaimed curiosity junkie, Mariam gets excited by a new challenge. She's a go-getter, enthusiastic, and personally invested in our client's business success.
With several years in the digital marketing industry with roles in social media, Mariam is able to bring her strengths to the forefront in helping you understand your business campaigns and where your ad spend is going.
"I love organizing and working with different teams to achieve company goals. I love the challenge that comes with assisting clients because it allows me to get creative."
Clara Lucia Carrier
— Brand Strategist
Trained as a communicator, marketer, and journalist, Clara has been dedicated to strengthening and growing brands to find their purpose and sustain it over time. Her 20-year experience as a dynamic and versatile bilingual/bi-cultural leader includes working with nonprofits such as Ronald McDonald House Charities®, EverThrive Illinois, Curamericas Global, Willow Creek Community Church, Opus Peace, People's Resource Center, Cardenas Markets Foundation, CASA Kane County; and for-profit companies like McDonald's Corporation, The Hershey Company, Verizon, Family Motor Coach Association (FMCA), and Southern Illinois University.
She is passionate about activating people's and organizations' purpose for social good. Her mission is to bring purpose to the core of people, principles, programs, partnerships, etc. so that individuals and organizations can achieve incredible heights. Her focus is on supporting people and organizations to break through, advance, and increase their impact by understanding the power of their brand while deepening relationships internally, externally, and with those, they wish to help.
Sonja Anderson
— Marketing Strategist
Sonja Anderson started her career in radio sales in the 90's and throughout her thriving years as a top performer she discovered one gnawing challenge; many businesses she worked with did not have the budget to make use of radio as it should be and in fact, might be better served using another medium altogether. These small to midsize businesses were investing real money into channels that could not deliver the ROI they deserved. Sonja found herself consulting with them and identifying other meaningful ways to deliver results whether it included radio (a medium she loved, where she was commissioned) or not. Sonja's interest in providing more potent outcomes with any given budget led her to become an accomplished strategist working alongside a who's who list of clients and partners.